Kyagulanyi gets over 60% percent of the votes, but people don't think elections will be honest. Election Observers from the EU have not been invited.
By: Nico Schoonderwoerd (Ph.D.)
Published: 28 October 2020
In February of next year, elections are going to be held for the presidency and parliament of Uganda. President Yoweri Museveni and his party NRM came to power in 1986 and in the 5 elections that were held since, he was always declared the winner. In 2016 the elections were marred with irregularities, as reported by observers of the European Union. For the 2021 elections the Ugandan government has decided not to invite European Election Observers. Such an invitation is necessary for them to do their work, according to European Union official Isabel Martinho.
In most recent elections the main opposition candidate was Kizza Besigye, but he decided not to run for his party FDC. In the last 2 years a Ugandan lawyer & pop star turned politician , mostly known by his artist name of Bobi Wine, came to the spotlight. Where in the past all opposition leaders were from the same generation of Museveni, Robert Kyagulanyi , Ssentamu (his real name) is only 38 years old. This is considered an advantage to attract votes among a population that is 78% below the age of 30, which is extremely young. Other opposition candidates are Mugisha Muntu (ANT), Henry Tumukunde (UPDF), Patrick Amuriat (FDC) and a large number of independents.
The opposition suffers from random arrests by the government of Museveni and does not get access to media that is controlled by people around Museveni, limiting voters to make an informed choice. Surveys that poll political preferences are scarce, the last one that became known was in March and performed by RWI. In that poll Kizza Besigye got 17% of the votes, but he isn't even running. A lot has changed since March, and we think independent election surveys are important for a sound election process. This is the reason why PeerReach, in collaboration with Freedom Uganda, has decided to step in.
In the past PeerReach has published various analyses of the Twitter population (references at the bottom), now it's polling the people of Uganda through Whatsapp.
Kyagulanyi defeats Museveni
The survey was held from October 1st to October 27th by a team of 3 people with mixed political preference. First we constructed 12000 fully random telephone numbers. Among those 12000 numbers were some 1200 people that were found in the Whatsapp database, and we sent them a message asking them for their availability for some questions. There were 304 responses. We then asked their age, home district and who they would vote for. Respondents happily gave their personal details but were reluctant to share their political preference. Asked if it's dangerous to share their preference, many confirmed this.
Lets hope you are not investigating me, there is a lot of kidnap here.
We also discovered that people were more willing to respond if you mentioned the names the candidates first, so that's what we did. Still, we found that we needed to build trust with the respondents before they gave an answer. Some video called us up to verify who we are, some asked us to send a picture. The fact that we operate from outside of Uganda made it easier to convince people we work independently. The fear of potential consequences for sharing their preference is a likely reason why surveys in the past have turned out to be inaccurate.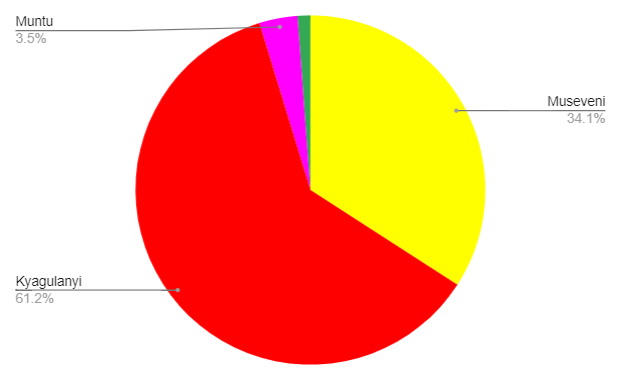 Robert Kyagulanyi receives 61% of the votes with a standard deviation of 5%. The probability of him acquiring more than half of the votes is 97.5% (in scientific terms: the p-value is 0.025, which means it's scientifically significant).
Kyagulanyi voters talked very enthusiastically about their candidate and shared videos and other marketing material.
Kyagulanyi Ssentamu is growing up his percentage of people
(..) I really like his political ideology
To me i would say a number of people are making up their minds for Robert kyagulanyi sentamu becoz our current president is basically a dictator
34% of the votes were for Museveni, also with a standard deviation of 5%.
I would vote for museveni. Kyagulanyi needs more time to understand leadership dynamics. We may change for worse, something Uganda is not ready for. We need to change for better.
We want Museveni as president only, no change
Kyagulanyi has good ideas for the country but he is still politically immature and he is surrounded by intolerant people who may become violent in a way of preventing against the impunity inflicted on them by the security forces of president Museveni
Mugisha Muntu receives almost 3.5% of the votes, but with a considerable margin of error of 2%. Asked for a motivation respondents said:
(he) has been active in Ugandan politics for more than 30 years making him one of most experienced candidates. He is the one of the most disciplined top army officers with a clean background.
We need a change but a change with justifiable reasons not excitement. Kyagulanyi looks popular because of music background but he lacks a number of qualities of a leader Uganda needs if we're to have a new president Uganda needs now
Muntu lacks the political face, he might not score much. It is a race between a cheetah (Museveni), a deer (Kyagulanyi) and a chicken (Muntu).
Other candidates received 1.5% of the votes. 16% of the respondents indicated they would not vote, 11% were undecided and 3% wouldn't share with us.
Consistent support among gender and area.
Although only a small majority of the Whatsapp accounts we used were male, among our respondents two thirds were male. However, if we compare results among males versus results among women, we find that Kyagulanyi received about 60% of the votes among both genders.
People in cities are more likely to have phones than people in rural areas. 70% of our respondents were from urban areas, the other 30% from rural areas. However, for their votes it doesn't seem to matter. This needs to be confirmed by further research. This is what one of our respondents had to say about it:
In urban centers they prefer Bobi Wine while in villages prefer Mzee. Villagers want money. Like they give them money when campaigns are running. Yes coz whoever goes just aim on satisfying their stomachs. In Uganda leadership is all about grabbing money and be happy
The average age of the respondents was 30 years. Below 35, a huge majority supports Kyagulanyi, above 35 a small majority of our sample supports Museveni.
Most Ugandans don't think elections will be honest
We asked our respondents if they expect elections to be honest. 58% indicated No, 35% said Yes, the remaining 7% didn't know. A big majority of Kyagulanyi voters don't believe in honest elections, but also a small part of the Museveni voters.
I am afraid of constant rigging of votes by NRM government which is very very very rampant (…)
it can't be honest cos its dictatorial regime
No honesty in Uganda.
I barely think of ya getting a healthy election cuz we know the after all person who's going to win.
Uganda is worse, especially corruption
We asked the respondents how things have changed in 5 years with respect to corruption, health care, education and their personal financial situation. Below you find the results.
73% of our respondents think that corruption is worse.
Corruption everywhere just know that's why some of us are jobless. Jobs are offered to their fellow tribemates. Me am scared of 2021. I think I will run away
M7 in this term has tried to fight corruption only that it is deeply rooted. He tried to fire leaders of companies & put investigators that report to him directly but it's still not enough.
corruption is the order of the day in Uganda, a lot of unemployment even if you are educated (..)
Worse (..) in some offices to give u a job a man want to first use u as a sex material
They are all for their own finances and improving there standards of living plus relatives'
Concerning health care the responses are mixed; 29% think it's worse, also 29% it's better.
Health care is the same. Treatment is very costly
33% of respondents think that education is worse.
Education has slightly improved in urban centers
Education is getting better as the syllabus changed recently with interest in more hands on courses that can create self employment. Would be better if not for Covid 19
In 5 years the personal financial situation of respondents has deteriorated. 63% say it's worse, only 16% say it's better.
my financial status is messed up…I work for my stomach.
Am a student but my financial status are not all that good (..)
Our government has not helped us at all ,the poor is very poor and the rich is very rich
Conclusion
This survey shows that life in Uganda for our respondents has become more difficult in the last 5 years, and they have seen corruption increasing. Education is also worse. Health care is perceived as the same.
Although most do not expect an honest election, a big majority is planning to vote. The biggest wish of the respondents is change, and they expect to find this with their votes on new opposition leader Robert Kyagulanyi (61%). Even many of those voting Museveni (34%) are asking for change.
Statistics give a probability of 97.5% to Kyagulanyi having the majority of the votes. The support for Kyagulanyi is consistent among males and females, and those living in urban and rural areas. Most Besigye voters in 2016 are now voting Kyagulanyi. Two thirds of the Museveni voters from 2016 stick to their favorite. But the new voters, in overwhelming majority, vote for Kyagulanyi. If these young voters will show up in the polling stations then the change they are asking for might indeed be realized.
————————–
For readability some typing errors in quotes were corrected.
References:
European Commission Observer Mission 2016 https://eeas.europa.eu/archives/docs/eueom/missions/2016/uganda/pdf/uganda-fr-forprint-14-04-2016_en.pdf
RWI poll https://www.independent.co.ug/poll-says-museveni-wouldnt-win-election/
About the author:
Nico Schoonderwoerd has a Ph.D. in physics. He published 4 scientific articles about Quantum Physics. He was co-founder of PeerReach, a social media analytics company. PeerReach research was published in various outlets.
Forbes: https://www.forbes.com/sites/andygreenberg/2013/02/04/twitter-hack-mostly-hit-early-adopter-well-connected-users-and-probably-president-obama/#39fa7db172e8
Volkskrant: https://www.volkskrant.nl/nieuws-achtergrond/dit-zijn-de-100-invloedrijkste-twitteraars-van-nederland~bee303f3/
LA times: https://www.latimes.com/nation/la-sh-twitter-users-graphics-20131121-story.html
Algemeen Dagblad: https://www.ad.nl/tech/nederland-kent-1-miljoen-actieve-twitter-accounts~a5effef4/