Date of death: November 18th, 2020.
He was a resident of Kabowa (Kampala outskirts), he operated a spare part shop. The deceased, Mr. Baguma, went about his business as a normal routine going to his shop to work and was in no way involved in the events of the protests. However; Mr. Baguma got caught in the reckless action of the Uganda law enforcement officers. According to an undisclosed witness, the deceased locked up his shop and joined neighbors on the road to watch. Shortly after, plain security operatives came chasing protestors while shooting at them with live bullets. One of the bullets hit Mr. Baguma in the head and splashed out his brain and he immediately fell to the ground as reported by an undisclosed eyewitness. He was shot dead in Ndeeba, rushed by friends and onlookers to Rubaga hospital where he was pronounced dead on arrival. He was buried in Kyekatebe, a village in Mityana, Uganda.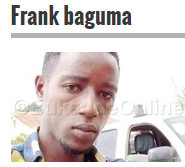 Case evaluation:
The law enforcement officers identified as security operatives were in plain uniform identifiable by the guns they carried. This is a disguise of their identity and for the public not to readily identify the officer(s) in charge of the crimes.
Extreme force was used by law enforcement that resulted in the death of 50 innocent Ugandans including Mr. Baguma.